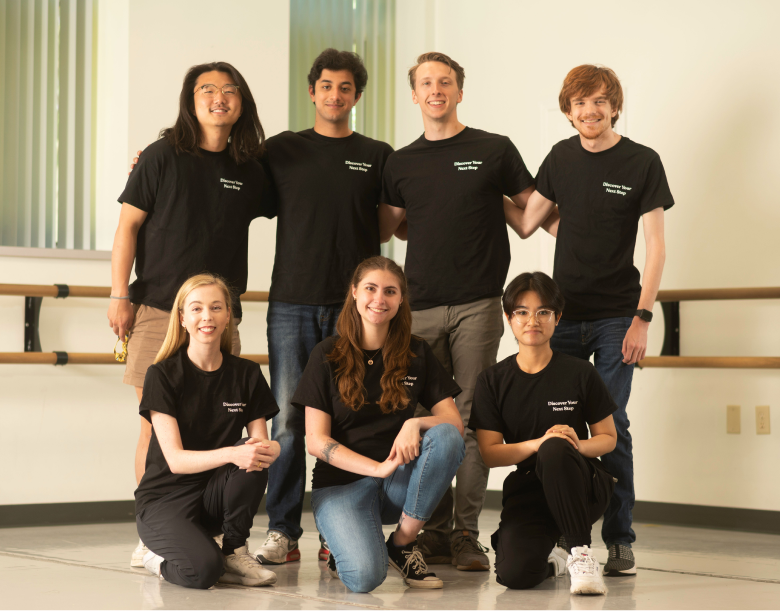 Our Mission
At The Ballet Scout, our mission is to ensure that all dancers are able to pursue their passion no matter their age, level, or physical ability. We don't want any dancer to have to cut their dreams short due to lack of opportunity. That's why we created a centralized database to help all dancers discover their next steps.

Stay in the loop and follow us on social media. You can find us on Instagram @theballetscout and on Facebook as The Ballet Scout @EclaireurAuditions.
Our Team
Management
Robert Fulton
Co-Founder & CEO
Sasha Ahrestani
Co-Founder & CTO
Eugene Ryoo
CSO & Developer
Development Team
Hannah Strouse
UI Designer & Researcher
Chase McFarlane
Back-End Developer
Jiaxi Zheng
Front-End Developer
Cy Fisher
Front-End Developer
Ballet Team
Camille Kellems
Marketing Manager & Ballet Advisor
Katie Connell
Data Gatherer
Our Story
Founder Robert Fulton is a professional dancer with the Nevada Ballet Theatre. He auditioned his way up the ranks as a dancer and experienced first hand how hard it is to find the right opportunities in dance. In the spring of 2019, many of Robert's peers were cut last-minute from the program they were training at. They spent hours scouring the web for information on auditions, only to find a handful of options. None worked out and several were forced to transition away from dancing. Robert realized that if there was a centralized database for all that information, so many dancers' passions could be saved.

Robert teamed up with Sasha Ahrestani, a computer science major at Penn State, and together they began designing a prototype. When the pandemic hit, so many dancers were scrambling to find their next steps, so they buckled down, brought on Eugene Ryoo, a cyber-security major at Penn State, and launched The Ballet Scout for the 20/21 audition season. They entered into several pitch competitions to raise money to develop the site and took 1st place in the IdeaMakers challenge and 3rd place in the Happy Valley Venture Capital challenge. In the summer of 2022, they were accepted into the Happy Valley Launcbox Summer Founders program where they received a large grant, mentorship, and facilities to build their company. Now, Eclaireur has a team of 9 dedicated to helping dancers succeed.

What started as just an idea turned into a website with over 1500 users. We have helped dancers of all ages and levels find training and jobs and we have helped companies of all sizes market and recruit their programs. In the future, we want to create a "Scout" for every artform and help every artist pursue their passion. But for now, as we say, you can discover your next step on The Ballet Scout!